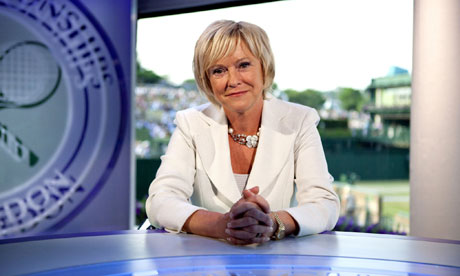 Wimbledon will continue to be broadcast free-to-air on the BBC until at least 2017.
BBC Sport signed a three-year extension to its current contract as host broadcaster and UK rights holder, which will continue to give audiences unprecedented access to the tournament across all platforms, including TV, radio, online, and red button.
This extends the corporation's long-standing relationship with the All England Lawn Tennis Club to 90 years.
Despite reported interest from BSkyB, and fears that the impending widespread cuts to the corporation's budget would force coverage to be scaled down, the BBC retains exclusive rights to one of its most coveted annual sporting events.
The world's most prestigious tennis tournament was the first sporting event ever broadcast live on the BBC. Television coverage started in 1937, ten years after the first radio transmission.
Wimbledon has often been the BBC's showcase for many broadcasting innovations over the years.
The first colour broadcast in the UK came from SW19 in 1967, which was pioneered by David Attenborough, who was controller of BBC Two at the time.
Interactive red button coverage, allowing viewers to access a range of outside courts, was first introduced in 2001.
High definition came in five years later, and the first ever free-to-air 3D sports took place this year when BBC HD screened the men's and women's singles finals.
Ian Ritchie, Chief Executive of the All England Club, said: "Wimbledon fans have been enjoying the BBC's coverage of The Championships since 1927 and we are delighted to be extending this enduring and successful partnership for a further three years."
Barbara Slater, director of BBC Sport, said: "We are proud that our new deal means the longest partnership in sports broadcasting continues.
"We know that Wimbledon fortnight has a very special place in the hearts of the UK public. We are delighted that our new agreement ensures coverage of The Championships remains free to air and available to licence fee payers."