After a hard-fought regular season and nail-biting playoff drama, NFL's Super Bowl XLIX is finally here as the New England Patriots take on the Seattle Seahawks in the battle for the world-famous Vince Lombardi trophy, live on Channel 4 and Sky Sports.
The winners of the AFC Conference go head-to-head the winner of the NFC Conference with the triumphant side at the end of a marathon evening of gridiron, fireworks and entertainment walking away with the prestigious trophy, named after legendary coach Vince Lombardi, who coached the Green Bay Packers to the first ever Super Bowl title in 1966.
Following a long season of wild shootouts, fourth quarter rallies, dramatic comebacks and deflated footballs, it all comes down to one final showdown on Sunday, February 1, which this year will be staged at the University of Phoenix Stadium in Glendale, Arizona.
The NFL's biggest night is one of the most watched sporting events in the world with TV advertising in the United States selling in the multi-millions of dollars, while interest in the UK has reached new heights this year following three sell-out NFL International Series fixtures at Wembley earlier in the season, not to mention bumper audiences for both Channel 4 and Sky Sports.
Seattle faced Denver Broncos in last year's Super Bowl at the Metlife Stadium in New Jersey, a contest which saw Seattle stampede all over the Broncos on the way to a famous win.
Now with possibly the greatest defence in NFL history, the Seahawks will be looking to repeat their victory last year, but are going up against one of the best head coach and quarterback pairings the league has ever seen – the New England Patriots' Bill Belichick and Tom Brady.
The Patriots boast one of the best offenses in the NFL, led by future Hall of Fame quarterback Tom Brady, and despite not having an all-star cast around him, he has put up big numbers all season long and remains the Patriots' key man.
In Rob Gronkowski, New England have the best tight end in the game and arguably the best to ever play football at all. The giant 6'7″ pass catcher is a match-up nightmare and his rare combination of size speed make him Brady's go to comfort blanket down in, down out.
For Seattle running back Marshawn Lynch is their most dangerous player. Beast Mode as he is known, is a strong, powerful and explosive runner who can score from virtually anywhere on the field.
Cornerback Richard Sherman is the star of the Seahawks' fearsome defence. Number 25 is a hard-hitting, tough-tackling defender who opposing quarterbacks throw towards at their peril.
Even with a dodgy elbow, Sherman promises to be a big factor on Sunday, and one who could decide the game on his own.
Like last year, the two number one seeds from both conferences will face down in American football's biggest game, with very little to separate the two sides between the bookmakers, so expectations are high for a classic contest.
This will also be the first time in a decade that an NFL side will play in consecutive Super Bowls, with the last such instance in 2004 and 2005, when the Patriots secured back-to-back wins.
Whatever the result, if the rest of the season is anything to go by, Super Bowl XLIX promises to be another spectacular sporting occasion and events on the pitch will complimented by an array of star-studded performances and entertainment.
Katy Perry will headline the world-famous 'Halftime Show' and Lenny Kravitz will make an appearance as her special guest, with other star names set to join them, while before the game kicks off, Frozen's Idina Menzel will perform the national anthem and John Legend will sing "America the Beautiful".
The Super Bowl is a spectacular, showpiece event in the global sporting calendar and whether you're a seasoned bleary-eyed watcher or an American football rookie, you will find it hard to leave the sofa on Sunday night.
.
America's biggest sporting event is back on Channel 4 as the UK's terrestrial home of the NFL brings gridiron fans live free-to-air coverage of the entire match from Arizona.
The broadcaster will clear its late-night schedule to bring viewers all the action direct from the University of Pheonix Stadium in Glendale, Arizona.
It is the second consecutive year that Channel 4 has covered the Super Bowl – after regaining the rights following a 16-year absence – having been the first UK television broadcaster to feature regular NFL coverage when it began its American Football programming following its launch in November 1982.
Nat Coombs will anchor Channel 4's coverage of 2015 Super Bowl night starting an hour ahead of kick off at 10.30pm, where he will be joined throughout in the London studio by regular analyst Mike Carlson and special guest Osi Umenyiora, with reporter Gethin Jones based at pitchside in Arizona with all the news and atmosphere.
For the match itself which kicks off at 11.30pm, Channel 4 will use the broadcast feed provided by host broadcaster NBC, including its team led by Al Michaels, who will provide play-by-play commentary, former Cincinnati Bengal Chris Collinsworth will be the chief analyst, while Michele Tafoya will be in the thick of the action on the sideline.
If there's one thing Channel 4's NFL presenters know for sure about Super Bowl XLIX, it's that match-ups don't get much tastier than the Seattle Seahawks versus the New England Patriots.
"It's definitely one of the most exciting games you could envisage," said Nat Coombs, who'll be presenting Channel 4's live coverage of the big game, in an interview on Channel4.com.
"It's this brilliant QB in Tom Brady – a six-time Super Bowl performer who operates New England's offense to perfection, against a Seattle defense of outright superstars – especially Richard Sherman, Kam Chancellor and the rest of the Legion of Boom."
"The big thing with last year was how relaxed Seattle's players were throughout. They weren't getting overawed by the occasion. But this year there's that weight of expectation. They're defending champions, so you know it's an altogether different situation."
The American Football Show co-host Vernon Kay added: "You've got the the most dominant defense in the NFL for the Seahawks, against a QB and offense that can score from anywhere on the field for the Patriots. It'll be fascinating to see what happens."
"I think that the Patriots – with their experience, the leadership of Tom Brady, and the calm-under-pressure of Bill Belichick – will lift the Vince Lombardi Trophy."
Channel 4's live free-to-air coverage will be simulcast online via its website – channel4.com/watchlive – with the full programme transmission also available on-demand via Channel 4's catch-up service 4OD shortly after.
In addition, a live text commentary service will also be available to view via channel4.com/nfl.
.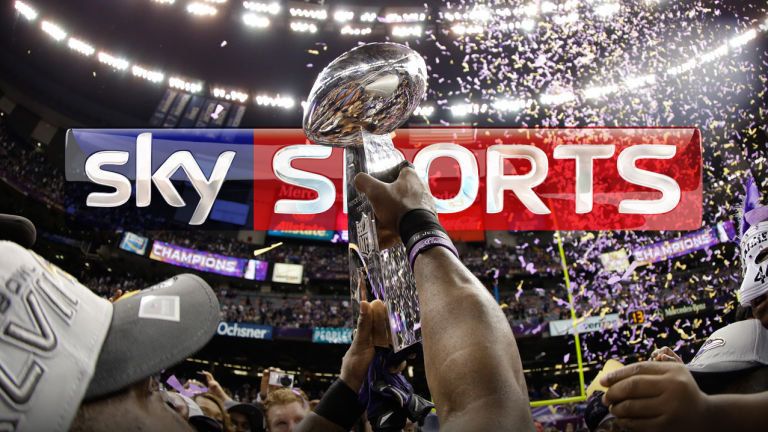 Sky Sports 3 will be dedicated to Super Bowl XLIX all week with the match itself, live build-up from Arizona plus a feast of feature programmes that will have all sports fans phoning in sick for work the morning after!
Monday marks the start of a packed week of programming, with Sky Sports 3 becoming an exclusive NFL channel in Super Bowl week as the channel prepares for New England Patriots to take on reigning champions Seattle Seahawks on Sunday, February 1.
Gridiron fans can enjoy the most comprehensive Super Bowl coverage available on UK television with over 160 hours of NFL coverage, including over 50 hours of live footage, as the Sky Sports team builds towards Sunday's big kick-off.
Game Day First and Game Day Morning, beginning at midday on Sunday, will provide the latest news from Glendale just hours before the game. If there's any last-minute drama, the team will have it covered during 10 hours of live build-up to the 'greatest show on earth.'
Super Bowl Week Live comes to you on Friday and Saturday afternoon, recapping the week's stories and providing team reports and preparations in advance of the Pats and 'Hawks colliding, while NFL AM will be the ideal way to wake up on Thursday, Friday and Saturday with all the up to date news.
On Friday, Sky Sports will be live at the Commissioners press conference meaning fans will be able to hear the official announcements as they happen for the first time, or if you prefer, there will be a glimpse of half-time entertainer Katy Perry.
Sky Sports will also be at Tuesday's media day hearing from the superstars that will be taking the field later in the week, but there is plenty more to keep fans entertained throughout the week.
New episodes of A Football Life will feature Earl Campbell and Lyle Alzado plus three special episodes called 'Immaculate Reception', 'McCardell and Smith' and 'Houston 93'. Because the Patriots are playing, Sky Sports will also be airing both parts of the Bill Belickick Football Life shows.
There will also be special Super Bowl Gold and Greatest Games airing throughout the week, the perfect opportunity to re-watch the best games of all time before Patriots v Seahawks on Sunday night.
Kevin Cadle leads Sky Sports' coverage direct from the University of Phoenix Stadium on the night from 10.00pm on Sky Sports 3, with live build-up and match coverage also simulcast on Sky Sports 1.
He will be joined in the studio to discuss all the major talking points throughout the night with Neil Reynolds, Jeff Reinebold and former Philadelphia Eagles full back Cecil Martin.
Sky will also be taking the NBC feed for its coverage with commentary from Al Michaels and Chris Collingsworth.
Further news, previews, interviews and analysis from Sky's NFL experts can be found via skysports.com/nfl, while subscribers can watch the game live via selected devices through Sky Go.
.
Sunday 1st February
Super Bowl XLIX: Seattle Seahawks v New England Patriots
Kick-off: 23:30  |  University of Phoenix Stadium, Glendale, Arizona
LIVE: 10.30pm-3.30am  Channel 4
LIVE: 10.00pm-3.30am  Sky Sports 1  /  Sky Sports 3
.
.