Sky Sports has a Christmas present for you this festive season with a stocking full of fantastic shows and a sleigh packed with the best sporting moments from 2013.
It has been another memorable sporting year, with a healthy dose of highs and lows across the board.
From the history-makers to the simply brilliant, after the thrills and spills of the Olympics, there was a fear that sport in 2013 would pale into insignificance.
However how wrong could we be, with the past 12 months serving up a real collection of sporting gems as the history books were rewritten time and time again.
From the magic of Murray to the farewell of Fergie, we have been thoroughly entertained and Sky Sports viewers can look forward to a real festive treat this Christmas with a stellar range of special features and review programmes, alongside its live coverage of Premier League football, Ashes cricket and the PDC World Darts Championship.
Full details of Sky Sports' 2013 Christmas specials below:
GILLETTE SOCCER SATURDAY XMAS SPECIAL
.
Sky Sports pundits swapped the sanctuary of the studio for the scrutiny of the golf course in the Gillette Soccer Saturday Golf Invitational Christmas Special.
Paul Merson, Phil Thompson and Matt Le Tissier were among the Soccer Saturday regulars to hit the golf course as they battled for the ultimate prize – the 2013 Soccer Saturday Invitational trophy.
This year the pundits represented some of their former teams, so they will not only be competing for individual glory, but also fighting to win more silverware in the name of their clubs.
The format of golf day saw 12 teams of two compete at Buckinghamshire Golf Club.
The pairings included Merse teaming up with Ray Parlour once again in the name of the Gunners, Thommo teeing off alongside Ray Houghton in a Liverpool duo and Jeff Stelling representing Hartlepool with Phil Brown.
You will have to wait and watch the show at Christmas to find out who the winners were – but here's Jeff's take on the day…
"I would say the winner caused a small upset, they weren't the obvious pick at the start of play," Jeff said.
"It was at the Buckinghamshire which is a beautiful golf course but there's a lot of water there and let's put it this way, one or two of the boys could have done with snorkels."
Gillette Soccer Saturday Christmas Special is on Sky Sports 1 HD on Christmas Eve at 8.00pm, repeated on Christmas Day at 5.00pm.
.
.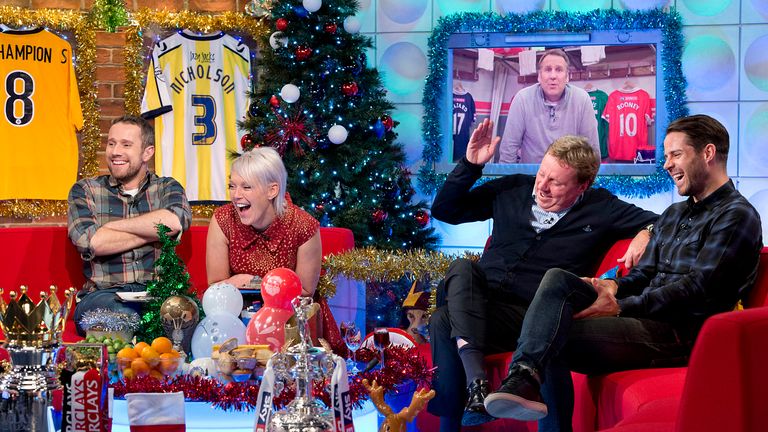 Christmas just wouldn't be Christmas without a Soccer AM special and so Max Rushden and Helen Chamberlain return to serve another festive treat on the big day itself.
The show's annual feast of festive fun hits your screens at 10.00am on Christmas Day and provides the perfect pre-turkey viewing on Christmas morning.
A selection box full of treats are in store, including fotball's favourite father and son duo – Jamie and Harry Redknapp – joining Max and Helen on the orange sofas for a chat.
Alongside the best goals, Showboats and Third Eyes from the season so far, there's a special News review of the season as a special guest joins Pat for a special edition of the regular  segment.
Other special features include a Christmas futsal skills special as Amsterdam Street Kings take on UK Freestylers, Max takes on Helen in Soccer AM's Great British Christmas Bake-off, and it's Jamie Redknapp v Jamie Carragher v Tubes as we put their skills to the test.
Tune in to Soccer AM Xmas Special at 10.00am on Sky Sports 1 and Sky 1, repeated on Sky Sports 1 at 8.00pm and 11.30pm.
.
.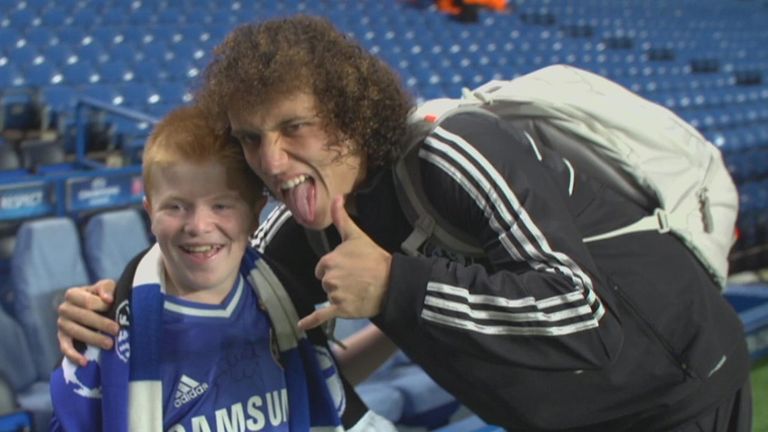 Superfan Oran Tully gets a surprise from his Chelsea heroes on our Christmas edition of My Special Day.
The 14-year-old from Skerries, near Dublin, is mad about football but has been in and out of hospital for much of his life with a rare bowel problem.
His love affair with Chelsea began after their victory in the 2007 League Cup final and one particular moment proved inspirational as he battled his health problems.
Blues skipper John Terry was knocked unconscious during the game but despite leaving the stadium in an ambulance he recovered in time to join in with the celebrations.
It was a magical afternoon when Oran returned home from school one day last month to find the Sky Sports cameras in his kitchen – and with them a video message from the Chelsea skipper.
Oran and his father were invited to Stamford Bridge to see Chelsea's Champions League win over Schalke and not only did the teenager meet Terry and his team-mates, he even managed to quiz owner Roman Abramovich!
Some one-on-one time with his idol followed – and Oran finally got his hands on the Champions League and Europa League trophies.
Watch Oran's Tully's My Special Day with the Chelsea team on Sky Sports News on Christmas Day at 9.30am, 1.30pm and 5.30pm.
THE RUGBY CLUB: LIONS SPECIAL
.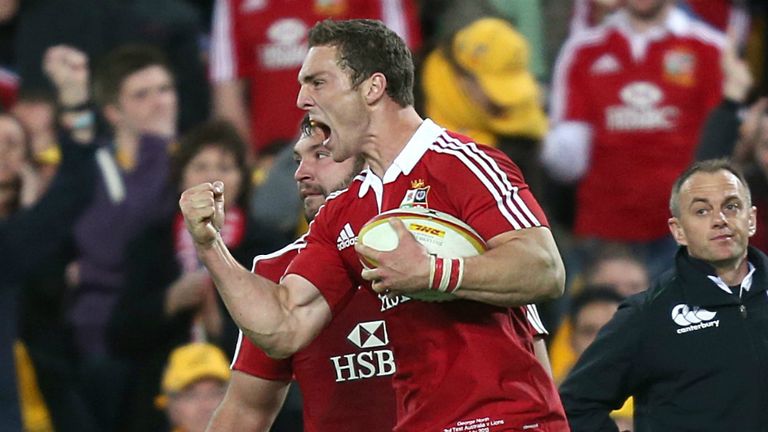 The 2013 British and Irish Lions tour to Australia had it all – thrilling tries, massive tackles, injuries, citings and, of course, controversial selections.
The Sky Sports rugby union team looks back on an incredible summer for the Lions as they ended their 16-year wait for a Test series victory.
This year's series went down to the third and final Test after the Lions had won the first game in Brisbane by just two points.
Australia kept the series alive by the narrowest of margins in Melbourne when they triumphed 16-15 and it all came down to the decider in Sydney.
The first two Tests were close affairs with both sides having the chance to win them and the third was expected to be the same. It wasn't. The Lions cut loose and demolished the Wallabies 41-16 in Sydney.
The win meant the Lions finished with an impressive record of played 10, won eight, lost two – while the likes of Leigh Halfpenny, George North and Alex Corbisiero elevated themselves to world-class status.
Join presenter Alex Payne alongside Stuart Barnes, Scott Quinnell and Will Greenwood as they relive all the key moments from the Lions tour.
They'll reflect on the controversy surrounding the James Horwill stamp and, of course, the dropping of Brian O'Driscoll that caused so much division amongst fans and media alike.
The Lions special will be shown on Boxing Day at 9.00pm on Sky Sports 3.
.
 GOLF: SOLHEIM CUP & US OPEN REVIEWS
.
It's been another memorable year in golf and you can look back on a couple of the big highlights via two superb and exclusive programmes.
The first – Making History: How Europe won the 2013 Solheim Cup – tells the story of Europe's sensational victory in Colorado.
The Euros had never won the trophy on American soil but Lotte Neumann's team defied the odds and re-wrote the record books with a shock 18-10 victory.
Also on December 25th you can tune into In Bloom: The Justin Rose Story which looks at the highs and lows of Justin's career journey – starting when Sky Sports first met him in 1997.
The programme gives you another chance to see Justin's memorable US Open win at Merion where he became the first Englishman to win the tournament since Tony Jacklin in 1970.
How Europe won the 2013 Solheim Cup airs on Christmas Day at 8.00am, 12.30pm and 7.30pm on Sky Sports 2.
In Bloom: The Justin Rose Story airs on Sky Sports 2 on Christmas Day at 11.00am and 6.00pm.
.
.
The Formula 1 circus may have packed up for the holidays, but Sky Sports F1 still has plenty of programming to keep you entertained over the festive period.
On Christmas Eve you can wind down the hours to Santa with our season review show as Simon Lazenby is joined by Martin Brundle, Damon Hill and Johnny Hebert to look back on a record-breaking 2013 season and look ahead to 2014.
You can see the hour long special at 6.00pm on Tuesday evening, repeated again at 8:30pm and 10:30pm, plus at various times over the festive period.
Then on Christmas Day at 7pm you can catch unseen footage from 'The Sand GP' as Sky Sports F1's Hill and Herbert took on the Mercedes pair of Lewis Hamilton and Nico Rosberg in the UAE desert.
In addition, we will also have a look behind the scenes as to how the feature was made.
Before that, you can see highlights of the 2013 Autosport Awards, featuring interviews with the newly crowned four-time World Champion Sebastian Vettel, the only man to win the world title on both two and four wheels, John Surtees, and three-time Indy 500 winner Dario Franchitti at 6.00pm.
2013: A Record Breaking Year airs at 6.00pm on Sky Sports F1 on Christmas Eve.
Autosport Awards 2013 Highlights airs at 6.00pm on Sky F1 on Christmas Day.
The Sand GP follows at 7.00pm, also on Sky F1, at 7.00pm on Christmas Day.
.
BEN AINSLIE: HOW THE AMERICA'S CUP WAS WON
.
Ben Ainslie talks through one of the greatest sporting comebacks in history as he relives his famous America's Cup triumph.
The Briton was crucial to Oracle's success in San Francisco with the 36-year-old helping to mastermind one of the great sporting comebacks.
Ainslie was drafted in as tactician after Race Five, with Team New Zealand having already opened up a commanding lead.
However from being 8-1 down, Oracle came storming back to rattle of eight successive wins and lift the Auld Mug once again.
Ainslie was called in replace tactician John Kostecki despite normally being a helmsman but he was able to quickly adapt to the new role – forming an instant bond with skipper Jimmy Spithill and strategist/grinder Tom Slingsby.
Victory in the event was a dream come true for Ainslie, how has previously tasted success as an individual, winning world and Olympic titles in the single-handed Finn and Laser Radial classes.
The four-time Olympic gold medallist reflects on his own achievements as well as his team's sensational comeback.
How the America's Cup Was Won airs on Christmas Day at 4.30pm on Sky Sports 2.
.
SUPER LEAGUE: SUPER TRIES & SAM'S TEAM
.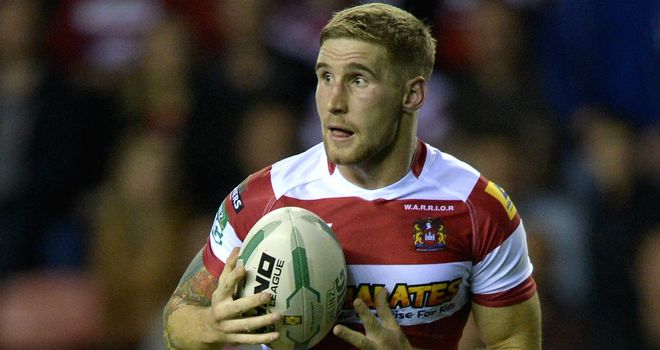 Christmas Day is all about turkey, presents and the Queen's speech – but Christmas Eve is all about rugby league.
From 7.00pm on the day before the big day, Sky Sports show you the best touchdowns from a gripping Super League season – one which ended with Wigan winning the Grand Final – in Super League Super Tries.
Plus, straight afterwards, you will get to see how New Zealand Warriors ace Sam Tomkins constructed a rugby league team from scratch comprised of players from two Halifax schools.
Super Tries will be jam-packed with eye-catching scores, but how many of Wigan star Josh Charnley's 34 will make the cut, and will there be clips of any of Warrington winger Josh Monaghan's 26?
Tomkins notched 23 tries during his final season for Wigan but as well as starring in the Super League, he also devoted ample time to help pupils get a taste of what his sport entails.
From selecting a side, to organising the selling of tickets and creating a marketing team, Sam had plenty to sink his teeth into as he merged children from two educational facilities to unite as one.
See how the former Warrior fared – after you've witnessed some epic tries, of course – and kick off your Christmas with a bang.
Watch Super League Super Tries and Sam's Team: Super League Special from 7.00pm on Sky Sports 2 on Christmas Eve.
.
.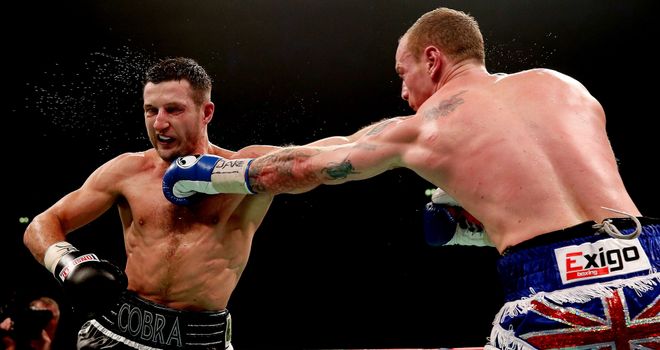 Boxing Day is well and truly boxing day for fight fans on Sky Sports.
For an entire 24-hour period from 6.00am on Boxing Day to 6.00am on December 27, Sky Sports 4 will show non-stop pugilistic content, including replays of some of the best fights of the calendar year.
You will see Carl Froch's delectable dust-up with Mikkel Kessler and the Cobra's controversial clash with fellow Brit George Groves, as well as the bout Darren Barker won against Daniel Geale to snare the IBF middleweight strap.
Duels involving Derry Mathews, Ruslan Provodnikov and Juan Manuel Marquez will also be on the menu, while there will be a smorgasbord of sensational shows for fight fans to enjoy.
Sky Sports will screen several editions of Ringside specials featuring legends of the sport – including Chris Eubank, Nigel Benn and Sugar Ray Leonard – reflecting on their glittering careers.
There will be another chance to see editions of The Gloves Are Off. Eubank will also be in the studio for a super-middleweight edition of Sky's popular boxing programme, alongside divisional greats like Steve Collins, Roy Jones, and Joe Calzaghe
Finally, there is a comprehensive review of the season with guests Jamie Moore, Glenn McCrory, Bob Mee and Ed Robinson joining Adam Smith and Johnny Nelson to dissect an intoxicating start to the 2013/14 boxing campaign.
For all that and more, stay glued to Sky Sports 4 on Boxing Day.
Ringside: Review of the season airs at 1pm, 6pm, 9pm on Boxing Day, Sky Sports 4.
.
.
In a year which saw Andy Murray end Britain's 77-year wait for a male singles champion at Wimbledon, it was Rafael Nadal who re-established himself at the summit of men's tennis.
Sky Sports will screen two special programmes featuring the pair on Christmas Day as the team goes behind the scenes with Murray's Miami training camp and reflects on Nadal's extraordinary comeback.
The 26-year-old Scot bounced back from losing his first four grand slam finals to capture the US Open title in 2012 before winning Wimbledon earlier this year.
He missed the end of last season after undergoing back surgery but – after some hard training in Florida – he is set to return to action in Abu Dhabi on Boxing Day as he prepares for next month's Australian Open.
For the second time, Nadal came back from seemingly chronic injury problems to produce one of the most dominant seasons in history.
Nadal's dominance of the clay season was not anything new but his unstoppable form on hard courts, which saw him win 26 straight matches, three Masters 1000 events and a grand slam on the surface, was less expected.
If he can maintain the same form in 2014, Roger Federer's record of 17 grand slam titles will soon come under threat.
Watch Murray in Miami on Sky Sports 2 at 3.00pm on Christmas Day, followed by Nadal's Comeback Year at 3.30pm.
.
SPECIAL REPORT: CHRIS FROOME – MADE IN KENYA
.
An exclusive and in-depth documentary about Chris Froome and his rise to the top of world cycling will be screened on Sky Sports News in Special Report.

Sky cameras followed the Tour de France winner back to his roots in Africa this autumn to look at how his unconventional upbringing in Kenya helped propel him to the yellow jersey and an Olympic medal at London 2012.
The 30-minute Special Report also includes previously unseen video diaries from Froome's victory at this year's Tour.
Chris Froome: Made In Kenya will be screened on Sky Sports News at 7.30pm on December 30, repeated on Sky Sports 1 at 6.30pm on Tuesday, December 31.
.
.
Tuesday 24th December
Sky Sports Finals of 2013 – from 5pm,

Sky Sports 4
2013: A Record Breaking Year – 6pm,

Sky Sports F1
World Darts Championship: Story So Far – 6.00pm,

Sky Sports 2
Gillette Soccer Xmas Special – 8.00pm,

Sky Sports 1
Super League Super Tries – 7.00pm,

Sky Sports 2
Super League: Sam's Team – 7.30pm,

Sky Sports 2
Wednesday 25th December
Sky Sports Finals of 2013 – all day,

Sky Sports 4
How the Solheim Cup Was Won – 8am,

Sky Sports 2
My Special Day – 9.30am, 1.30pm & 5.30pm,

Sky Sports News
Soccer AM Xmas Special – 10am,

Sky Sports 1
In Bloom: Justin Rose at the 2013 US Open – 11.00am,

Sky Sports 2
Murray in Miami – 3.00pm,

Sky Sports 2
Nadal's Comeback Year – 3.30pm,

Sky Sports 2
Ben Ainslie: How the America's Cup was won – 4.30pm,

Sky Sports 2
The Making of Messi – 6.30pm,

Sky Sports 1
Thursday 26th December
Xmas Punch: 24 hours of Boxing Best Bits – all day,

Sky Sports 4
Ringside: Review of the season – 9.00am, 6.00pm & 9.00pm,

Sky Sports 4
The Rugby Club: Lions Special – 8.30pm,

Sky Sports 3
Lions Raw – 10.00pm,

Sky Sports 3
Tuesday 31st December
Rugby Union Super Tries – 6pm,

Sky Sports 1
Goles Y Goles Y Goles – 6.30pm,

Sky Sports 1
Ringside – Fights of 2013 – 7.00pm,

Sky Sports 1
Super League Season Review – 8pm,

Sky Sports 2